Casteel to lead UI Injury Prevention Research Center
Published on July 30, 2020
Carri Casteel, UI associate professor in the Department of Occupational and Environmental Health, has been named director of the UI Injury Prevention Research Center (UI IPRC),  an injury control research center (ICRC) funded by the National Center for Injury Prevention and Control (NCIPC) at the Centers for Disease Control and Prevention. The UI IPRC puts research findings into action to save and protect lives from traumatic injuries and violence. It one of nine such academic research centers nationwide and has been funded since 1991.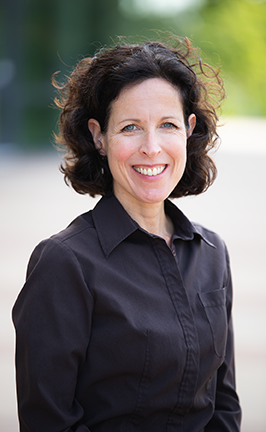 The UI IPRC, based in the UI College of Public Health, is one of the only national centers to focus on reducing the burden of injuries and violence in rural populations. The UI center collaborates with over 60 faculty across campus and has expert research teams around road traffic safety, opioid overdoses, interpersonal violence, rural acute care, older adult falls, and occupational injuries.
Casteel brings eight years of experience with leadership roles at the UI IPRC, most recently as the center's associate director for research. Her areas of research and practice expertise include workplace violence, older adult falls, and opioid overdose prevention.
Currently, Casteel leads a team that is implementing a community-based referral infrastructure to reduce older adult falls in Iowa. She also recently led a project resulting in stakeholder recommendations for reducing opioid overdoses in the state. Casteel is program director of the Occupational Injury Prevention Program at the Heartland Center for Occupational Health and Safety. Before joining the UI in 2013, she was a research associate professor at the University of North Carolina at Chapel Hill (UNC) and worked with the UNC Injury Prevention Research Center.
Corinne Peek-Asa, professor of occupational and environmental health and associate dean for research in UI College of Public Health, served as director of the UI IPRC for 15 years.
"Carri is one of our nation's leading injury epidemiologists, and she is particularly strong in her interdisciplinary and community partnerships and in her role in prevention and intervention programs," Peek-Asa says. "I am delighted to turn over leadership of the center to such a strong leader at a time when the center is poised to increase our local and national impact."
Under Peek-Asa's tenure, beginning in 2006, the UI IPRC has greatly expanded and enhanced its research portfolio, state and community partnerships, faculty collaborations, and injury and violence curriculum at the College of Public Health.
"Cori's remarkable leadership has elevated not only the UI Injury Prevention Research Center, but the broader field of injury prevention and public health in general," says Edith Parker, dean of the UI College of Public Health. "She has been an outstanding researcher, collaborator, and mentor, and like all good leaders she has surrounded herself with people who are prepared to continue and expand on the excellent work of this center."
Read more about the UI Injury Prevention Research Center.