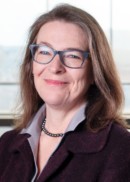 Title(s): Professor Emeritus
Department: Occupational and Environmental Health
Office: S143 CPHB
Phone: (319) 335-4895
Corinne Peek-Asa, is a former associate dean for research for the University of Iowa College of Public Health, former director of the Injury Prevention Research Center and emeritus professor in the Department of Occupational and Environmental Health. In 2022, she became the vice chancellor for research at the University of California-San Diego.
Dr. Peek-Asa's area of expertise is injury and violence prevention. She has conducted research in the areas of global road traffic safety, interpersonal violence, workplace violence, residential fire injuries, poisoning, and acute care. Her work has included surveillance; risk factor identification; design, implementation, and evaluation of prevention programs; design and evaluation of safety policy; and, translation and dissemination methods.
The IPRC offers education in injury prevention and control at the master's and Ph.D. level, with access to a wide range of data sources. Injury, in general, is an emerging public health issue, Peek-Asa said. "For a long time, it was not in the dialogue of public health agencies, but it's really coming into its day."
Dr. Peek-Asa received a BS in Biochemistry from the University of New Mexico, and her Master's in Public Health and PhD from the University of California, Los Angeles. She was on the faculty in the Department of Epidemiology at UCLA before joining the University of Iowa in 2001.
Dr. Peek-Asa is the past-President of the Society for the Advancement of Violence and Injury Research and received the SAVIR President's Award in 2011. She was named a 2009 ResearchAmerica! Public Health Hero and received the College of Public Health Faculty Service Award in 2011. She currently serves on the Board of Scientific Counselors for the CDC/National Institute for Occupational Safety and Health and the Driver Education Committee of the Transportation Research Board.
Reporters seeking information on teen driving and other news issues often turn to Dr. Corinne Peek-Asa, but the IPRC goes far beyond the latest hot topic. Learn more about Dr. Peek-Asa in this profile…
Courses Taught
Injury and Violence Prevention
Global Road Safety
Making a Difference: Public Health Policy & Advocacy
Research Interests
Workplace violence
Domestic violence
Childhood injuries
Injuries in the elderly
Epidemiologic methods
Intervention and translation research
Background
Affiliations