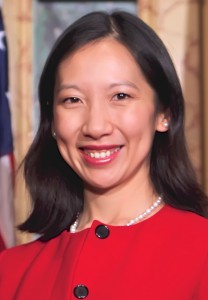 Hansen Distinguished Lecture
"Lessons from Baltimore: The Intersection between Public Health and Physician Activism"
Wednesday, April 19
12:30 p.m.
Callaghan Auditorium (Room N110)
Iowa's small towns may not appear to have much in common with a large city like Baltimore, but rural and urban areas are facing some similar health challenges.
"There is an opioid emergency across our country," says Leana Wen, MD, Commissioner of Health for the City of Baltimore, citing one example, "and it's vividly and dramatically affecting Baltimore."
Iowa, too, has seen significant increases in opioid use. Opioid overdoses killed 61 Iowans in 2015, more than double the number from 2005, according to the Iowa Department of Public Health.
Wen will discuss this and other public health issues when she delivers the Hansen Distinguished Lecture, "Lessons from Baltimore: The Intersection between Public Health and Physician Activism," on Wednesday, April 19, at 12:30 p.m. in Callaghan Auditorium (Room N110), College of Public Health Building. The event is free and open to the public.
The front lines of public health delivery
Wen describes her talk as "lessons from the front lines of public health delivery in Baltimore – both successes and failures," she says. "I'll also share my views on what it is students can do to be involved right now, and how they can be most effective in their communities."
The University of Iowa College of Public Health named Wen the recipient of its 2016 Richard and Barbara Hansen Leadership Award and Distinguished Lectureship in recognition of her leadership in improving well-being and reducing health disparities.
To combat opioid overdose in Baltimore, Wen issued a blanket prescription for the opioid antidote, naloxone, to all 620,000 city residents. Since 2015, this program has saved over 530 lives.
"There are differences in the implementation of programs, but the challenges are the same," Wen says about addressing the opioid epidemic, adding that there is a common need to "reduce stigma surrounding addiction and mental health."
Under Wen's direction, the Baltimore City Health Department has implemented a number of  innovative health programs, including B'More for Healthy Babies, which has resulted in a 38 percent reduction of infant mortality in just seven years; Vision for Baltimore, an initiative to provide glasses to every child who needs them; Safe Streets, a program to engage citizens and hospitals in treating gun violence as a contagious disease; and Healthy Baltimore 2020, a blueprint for health and well-being that enlists all sectors to achieve the ambitious goal of cutting disparities in half in ten years.
Urban and rural health disparities
Wen points out that health disparities affect both urban and rural populations.
"The challenges might seem different, but it comes down to social determinants of health," Wen says.
Examples of social determinants include access to health care services, exposure to crime and violence, availability of safe housing and local food markets, quality of education and jobs training, and transportation options. In other words, where you live has a big impact on your health.
Before her appointment as health commissioner in January 2015, Wen was an attending physician and director of patient-centered care in the Department of Emergency Medicine at George Washington University (GWU).
"I learned about public health not through academic training, but through practical experience," Wen says. "I saw in the ER how little impact I had on the long-term health of my patients. That's what clued me in on the importance of public health. Housing, food, the environment all affect how we live."
As a professor of emergency medicine at the School of Medicine and of health policy at the School of Public Health, she co-directed GWU's Residency Fellowship in Health Policy and co-led a new national collaboration on health policy and social mission with Kaiser Permanente.
Wen is also the author of the critically acclaimed book When Doctors Don't Listen: How to Avoid Misdiagnoses and Unnecessary Tests, and has recorded several popular TED and TEDMED talks on patient-centered care, public health leadership, and health care reform.
The Hansen Leadership Award is presented annually by the UI College of Public Health to honor individuals who have made sustained contributions in the public health field. The award recognizes exemplary leadership, high ethical standards, and an enduring commitment to improving health on a national and international level. The award is made possible by a gift from Richard and Barbara Hansen of Iowa City.
Save
Save
Save
Save
Save
Save
Save