The best of both worlds
By Cindy Hadish
Published on December 22, 2016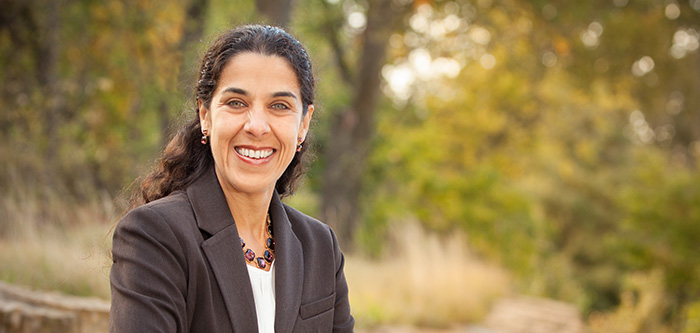 Anjali Deshpande found the perfect fit for her experience and background in her new role as director of the University of Iowa's Master of Public Health (MPH) program.
"When I read the job description, I said, 'this is me,'" says Deshpande, who previously served as assistant professor and director of the graduate programs in applied health behavior research at Washington University School of Medicine in St. Louis.
Deshpande started her new post at Iowa this past summer. In addition to MPH director, she's also a clinical associate professor in epidemiology.
Deshpande brings a variety of experience to the position, including time as an epidemiology practitioner at public health departments in Oklahoma and Missouri. She also previously served on the faculty at the Saint Louis University School of Public Health.
"I've seen the applied public health side; I've seen the medical side," says Deshpande, who has trained public health workers, as well. "It's really about bringing the research to practice."
Her own research in cancer survivorship, particularly in colorectal cancer and the impact of multimorbidity in quality of life outcomes for older adults, also played a role in coming to the UI, where cancer research and aging are key areas of study.
She is assessing the MPH curriculum to see how to meet the needs of public health professionals into the future and build partnerships between the program and the community. Students might work on projects locally in Iowa City, around the state, or nationally, with further opportunities abroad.
Deshpande would like to include an emphasis on collecting, analyzing, using, and communicating data, along with a business-style approach of professional development seminars to help students develop skills such as networking and résumé writing.
She predicts that the program, now with 185 students, will grow. Part of that growth could materialize internally, as the college launched a new undergraduate public health degree program this fall. Other growth is occurring in initiatives such as the "undergrad to grad" program, which enables students to earn both their bachelor's and master's degrees in five years, rather than six.
Deshpande assumes the role previously held by Mary Aquilino, professor emeritus, who directed the MPH program from 2004-2015 as the college's associate dean for MPH and undergraduate programs.
"With her research and practice experience, Anjali brings the best of both worlds that will really benefit our students," says Tanya Uden-Holman, CPH associate dean for academic affairs. "She'll be instrumental in leading the college's ongoing commitment to curricular innovation and ensuring our MPH students are well prepared to meet today's public health challenges."
Deshpande completed her PhD in epidemiology from Emory University in Atlanta; her MPH in epidemiology from the University of Oklahoma Health Science Center in Oklahoma City; and BS in microbiology from Cornell University in Ithaca, N.Y.
Her main goal is to see students succeed in their careers in Iowa and beyond, which in turn will build the MPH program's reputation.
"When our graduates go out and do great things—whether it's in state, national, or international positions—that speaks highly of our program," Deshpande says. "As more people see what our graduates accomplish, the more students will choose Iowa."
This story originally appeared in the Fall 2016 issue of InSight.
Photo by John Choate