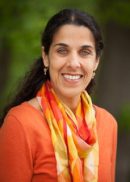 Title(s): Clinical Associate Professor
Department: Epidemiology
Office: S141 CPHB
Phone: (319) 384-1506
Anjali Deshpande, PhD, MPH, joined the University of Iowa in June 2016 as a clinical associate professor in epidemiology. She served as the director of the college's Master of Public Health program from 2016-2020. Prior to coming to Iowa, she was an assistant professor and director of the graduate programs in applied health behavior research at Washington University School of Medicine in St. Louis. Her experience includes working as an epidemiology practitioner at public health departments in Oklahoma and Missouri. She also previously served on the faculty at the Saint Louis University School of Public Health.
Deshpande completed her PhD in epidemiology from Emory University in Atlanta; her MPH in epidemiology from the University of Oklahoma Health Science Center in Oklahoma City; and BS in microbiology from Cornell University in Ithaca, New York. Her research interests include cancer survivorship, particularly in colorectal cancer, and the impact of multimorbidity in quality of life outcomes for older adults.