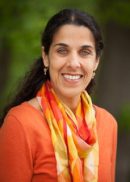 Title(s): Clinical Associate Professor
Department: Epidemiology
Office: S141 CPHB
Phone: (319) 384-1506
Anjali Deshpande, PhD, MPH, joined the college on June 30, 2016 as director of the college's Master of Public Health (MPH) Program and clinical associate professor in epidemiology.
As part of the college's academic affairs office, Dr. Deshpande will provide strategic and innovative leadership for the MPH program. We are very excited to have her join our team and look forward to her expertise and enthusiasm in training the next generation of public health professionals.