Epidemiology Student Association (ESA)
About the Association
The Epidemiology Student Association aims to promote the study and use of epidemiological theory and techniques of practice, as well as increase the awareness of occupational and educational opportunities, foster collaboration and comradery among our students and faculty, and promote professionalism in Epidemiology. Our voting membership consists of all students seeing an MS, PhD, MPH or MSCI in epidemiology at the University of Iowa.
Mission Statement
The Epidemiology Student Association, ESA, is intended to be a voice, an advocate, and a resource for students in the Epidemiology Department. We serve as a liaison between the students and the department, facilitating cooperation and understanding as we work together to create an excellent department and exceptional graduates.
2019-2020 ESA Officers
Erin Taber – MPH Representative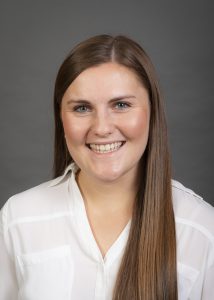 Erin is a 2nd year MPH student in Epidemiology and just graduated with her Bachelor of Arts in May 2019 from the University of Iowa. She majored in Health and Human Physiology (Health Promotion) and Political Science, along with a minor in Global Health Studies. Erin was in the undergrad to grad MPH program during her senior year at Iowa and is excited to be a "full time grad student" this year. Her main interest is in nutritional epidemiology.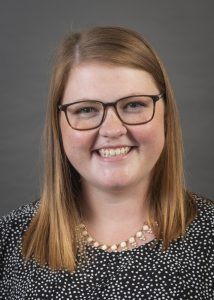 Amy is originally from Iowa City and is a second-year MS student in epidemiology. She graduated in 2018 from the University of Cincinnati with a BS in Mathematics. She currently conducts research with the psychiatry department at University of Iowa Hospitals and Clinics and plans to do her master's thesis on Huntington's Disease and effectiveness of depression treatment.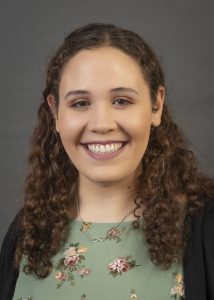 Emma is a second year PhD student from Orlando, Florida. Emma earned her M.S. in Biostatistics in 2018 and B.S. in Statistics and Psychology in 2017 from Florida State University. Her research interests involve racial disparities in cancer outcomes as well as disparities within immigrant populations. Emma is currently working on a SEER-Medicare project looking at variations in treatment and outcomes in patients with bone metastases. She is also involved in maternal and child health research, examining the relationship between endometriosis and preterm birth.
Morgan Bobb Swanson – PhD Representative
Morgan is a fifth-year student in the Medical Scientist Training Program (MSTP) as a dual MD/PhD student from Denmark, Iowa. Morgan completed undergraduate training at Iowa State University in Global Resource Systems and Genetics where she participated in service learning in the rural Kamuli district of Uganda and collaborated on a project identifying value of local animal genetic resources with the Food and Agriculture Organization (FAO). At Iowa, Morgan is a Graduate Research Assistant in the Department of Emergency Medicine. She hopes to become a physician-scientist and help improve healthcare access and delivery for children in rural areas.
Student Resources
Resources for epidemiology students — including grant and scholarship opportunities, student guides, volunteer opportunities and career information — can be found on our ESA Student Resources page.
Questions? Comments? Concerns?
Send an anonymous message to the ESA officers. Please include your email address if you would like a reply. You can also email us directly at cph-esa@uiowa.edu.