Patrick O'Shaughnessy: Extending worker safety and health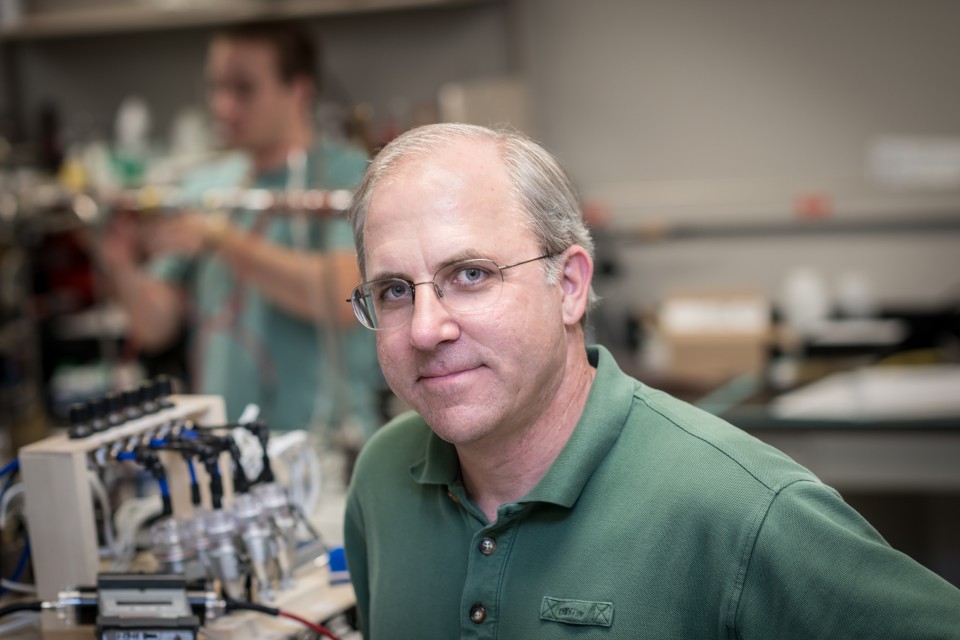 Dr. Patrick O'Shaughnessy, professor in the University of Iowa College of Public Health Department of Occupational and Environmental Health, learned industry hazards firsthand. O'Shaughnessy spent eight years as a construction worker before furthering his education in civil and environmental engineering.
"A lot of different skills are involved in construction, as well as hazards," he said, citing issues such as noise, and breathing particulates in the air. "At 30, I decided to go back to grad school."
O'Shaughnessy now directs the UI Heartland Center for Occupational Health and Safety, one of 18 such centers funded by the National Institute for Occupational Safety and Health (NIOSH.) Student trainees, who study in one of six programs in the Heartland Center, receive tuition reimbursement and also can receive a stipend. The center offers graduate training programs in Industrial Hygiene, Occupational Medicine, Ergonomics, Occupational Epidemiology, Occupational Injury Prevention and Agricultural Safety and Health
"This funds their education, so they don't have to take out any loans," O'Shaughnessy said of the more than 40 graduate students annually enrolled in the center.
O'Shaughnessy worked as a science teacher after receiving his bachelor's degree in wildlife biology, and went on to earn his master's in civil engineering and Ph.D. in environmental engineering, all from the University of Vermont.
He teaches courses in Statistics for Experimenters and Air Pollution Control Technology and is the Associate Head for Student Affairs and Curriculum in the department of Occupational and Environmental Health. O'Shaughnessy specializes in the assessment of aerosol sampling devices; the hazards associated with nanoparticles; the properties of respirators worn in agricultural environments and the dispersion of dusts and gases spatially from air pollution sources.
His expertise in aerosol physics has applications for a variety of significant issues, from the local to international level.
For example, O'Shaughnessy's studies have assessed what workers breathe in swine buildings, where the air is controlled for animal health, but not necessarily for worker health. His research in dispersion modeling of hydrogen sulfide gas released from the buildings enables estimates to be made of the concentration of that gas in outside air, based on the number of pigs in a facility.
O'Shaughnessy's dispersion modeling applied to the growing arena of hydraulic fracturing, or fracking, has shown the localized concentrations of small particulates containing silica emanating from quarries extracting sand used in the fracking process that can pose breathing problems for neighbors. He also has expertise in nanoparticles, another industry that has experienced tremendous growth in recent years.
"They're in cosmetics to airplane wings to everything in between," he said, adding that several million people worldwide now work in nanotechnology, an industry that originated just 15 years ago.
O'Shaughnessy compared the concerns involved in breathing the microscopic particles to that of asbestos, which also connects to related issues of assessing those concentrations and the quality of respirators that workers use.
Because of the widespread impact of industry, which also extends to consumers, O'Shaughnessy noted that students interested in worker safety and health can impact numerous people through studies that lead to altering standards of respirators and other personal protective equipment, for example, to changes in air pollution control devices.
"What we're doing can have a real effect on quality of life, and extending lives with better health," he said.
— Profile by Cindy Hadish