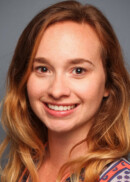 Title(s): Environmental Health Sciences Research Center Community Education Coordinator
Department: Occupational and Environmental Health
Office: S369 CPHB
Phone: (319) 335-4425
Jackie Curnick has been with The University of Iowa since 2018 and joined UI staff council in 2020 as the College of Public Health Org Representative. Prior to this appointment she served as Chair of the College of Public Health Staff Council. Jackie's position in CPH is the Program Coordinator for the Environmental Health Sciences Research Center (EHSRC) Community Engagement Core. In this role she manages the Science Café outreach program, produces translation materials, coordinates the Stakeholder Advisory Board, and has taught the Environmental Justice section of the Hawkeye Service Breaks class.
Jackie is a born and raised Floridian and holds degrees from The Florida State University (B.S. in Interdisciplinary Social Science) and The University of Florida (Masters of Sustainable Development Practice, specialization in Environmental Communication, graduate certificates in African Studies and Tropical Conservation). In 2015 she received a Fulbright ETA award and carried out her grant in South Africa, where she worked in a high school. In 2018 she completed her graduate thesis documentary film, "Pulling Teeth From A Polar Bear: Environmental Injustice in the Bering Sea." The film has been shown at several film festivals in the US and abroad.