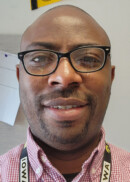 Title(s): Assistant Professor
Department: Community and Behavioral Health
Office: N428 CPHB
Phone: 319-467-0763
Dr. Adeagbo is an applied social scientist with extensive research experience working collaboratively with local and international institutions on HIV-related research in the United States, South Africa, Nigeria, and most recently, Zambia. He has conducted research with adolescents, youth, and older people. He has explored the impact of class, race, gender, education, violence, substance use, employment status, and other related factors on individual health over time. The guiding principle of his research is to reduce the adverse health and social impact of diseases while advancing population health, especially in resource-constrained settings. His research activities have focused on global health, rural health, stigma reduction interventions, telehealth interventions, HIV treatment and prevention, qualitative research method, sexual and gender minority health, implementation science and evaluation of complex interventions. Recently, Dr. Adeagbo has developed additional research interest in bioethics and non-communicable diseases (NCDs).
Research Interests
Global health
Gender and sexuality
HIV/AIDS
Implementation Science
Evaluation
Background