Gilbert receives New Faculty Research Award
Published on November 30, 2016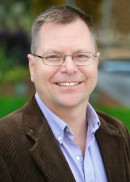 Paul Gilbert, assistant professor of community and behavioral health, has been selected to receive a College of Public Health New Faculty Research Award of $10,000. The grant funding will be used for a project titled "Natural Recovery from Alcohol Use Disorders in Southeast Iowa." The project will be funded for the 2017 calendar year.
The purpose of the New Faculty Research Award is to assist CPH primary faculty in collecting preliminary data or pilot studies leading to larger projects.
Project Description
The majority of people in the United States with an alcohol use disorder (AUD) do not receive treatment, and some social groups, such as women and racial/ethnic minorities, are less likely to receive help than their male and White counterparts, respectively. Nevertheless, as many as three-quarters of those with AUD will achieve remission without treatment. This paradoxical phenomenon of unassisted self-change, known as natural recovery, has been long recognized by alcohol scholars but remains poorly understood.
Research over the past three decades has identified a number of factors associated with natural recovery, such as individual psychosocial characteristics, interpersonal networks, individual health status and health events, and environmental circumstances. In turn, these findings have been applied in a wide variety of intervention trials to promote natural recovery, often with only modest success in reducing problematic drinking. Such limited effectiveness may be due to incomplete understanding of the processes at work.
Further, there has been scant attention to variability of this phenomenon. Only one study to-date has examined effect modification by gender, finding differences in the psychosocial and interpersonal factors associated with natural recovery between men and women. To the researcher's knowledge, there has been no reported investigation of differences between racial/ethnic groups, despite criticism that many early studies of natural recovery relied on overly homogeneous, predominantly White samples.
In response, this study will use qualitative methods to elaborate the processes of natural recovery among White, Black, and Latino men and women in southeast Iowa.
The specific aims of the project are:
To identify and characterize the process of natural recovery among adults who have not received treatment for alcohol misuse.
To determine the most productive recruitment strategies to reach adults who have experienced natural recovery.
The study's preliminary data will be used in support of a larger, subsequent study to examine natural recovery.