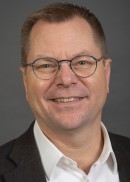 Title(s): Associate Professor
Department: Community and Behavioral Health
Office: N414 CPHB
Phone: (319) 384-1478
Social: Twitter feed
Dr. Gilbert conducts research to understand and address alcohol-related disparities. He is particularly interested in the ways that gender, race/ethnicity, and sexual orientation shape drinking patterns, risk of alcohol use disorders, and use of treatment services. Among current projects, he is conducting a national, NIH-funded study to investigate how people define recovery when they don't seek treatment, the behavior change strategies leading to resolution of a drinking problem without treatment, and how untreated recovery may vary by gender and race/ethnicity. In the past, Dr. Gilbert has conducted a study of Iowa's social host liability law that was supported by the Iowa Institute of Public Health Research and Policy, partnered with colleagues at the Iowa Cancer Consortium, One Iowa, and Des Moines University to conduct a comprehensive survey of LGBTQ Iowans' health status and needs, and led a community survey in West Liberty, Iowa, to identify strengths and health concerns among Latino residents (summary report available in English and in Spanish). Among other activities, Dr. Gilbert leads the public health track of the Summer Health Professions Education Program at the University of Iowa and serves as the chair of the Alcohol, Tobacco, and Other Drugs Section of the American Public Health Association.
Courses Taught
CBH 5220: Health Behavior and Health Education (Fall 2016)
CBH 6230: Health Equity, Disparities, and Social Justice (Spring 2016, 2017, 2018, 2019, 2021, 2022)
CBH 6410: Global Health Equity (Spring 2019)
CBH 7100: Doctoral Seminar (Fall 2016, 2018; Spring 2021)
CBH 7300: Advanced Behavioral Theories (Fall 2017, 2019, 2021)
CPH 1800: Social and Psychological Determinants of Health (Fall 2020)
Research Interests
Alcohol-related disparities
Mixed-methods study designs
Participatory research methods
Sexual and gender minority health
Social determinants of health
Background
Affiliations