Thomas Peters: An engineer trained in aerosol physics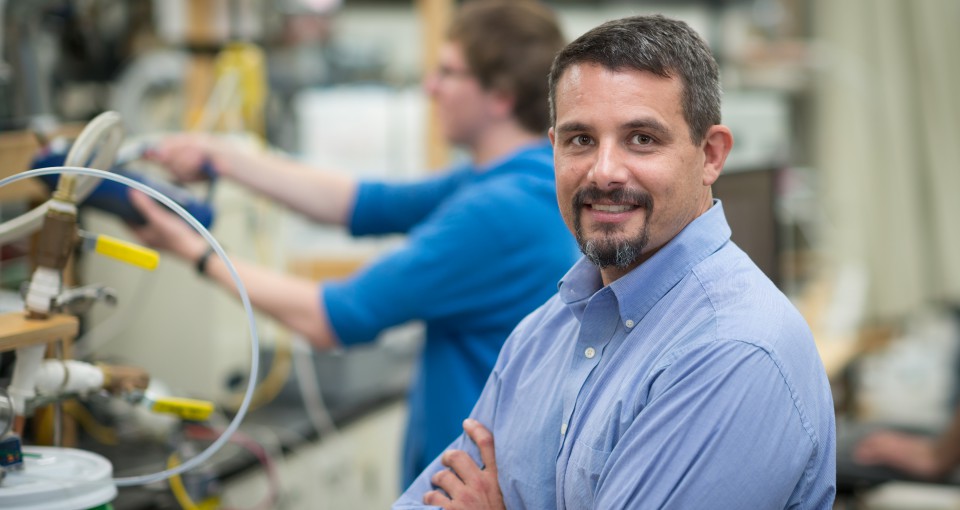 A respiratory sampler on a shelf in Dr. Thomas Peters' office serves as an outward example of his inner motivation.
The personal nanoparticle respiratory deposition (NRD) sampler is among the tools Peters has developed to help make a difference in workers' lives.
More than 60,000 deaths in the United States are annually attributed to exposure to ambient aerosols or fine particles, and occupational concentrations are often 10 to 1,000 times greater than ambient air.
"I'm motivated by that," said Peters, Associate Professor in the Department of Occupational and Environmental Health at the University of Iowa College of Public Health. His practices, he said, stem from his commitment to mitigate adverse health outcomes arising from community or workplace exposures to airborne particles.
Peters, an engineer trained in aerosol physics, accomplishes that with a variety of means.
The NRD sampler collects nanoparticles with efficiency similar to that in the respiratory tract, while a personal diffusion battery can assess exposures to submicrometer aerosols. In past projects, he evaluated real-time aerosol measurement devices, developed aerosol generators used in Environmental Protection Agency human exposure facilities, investigated turbulence effects on coarse filters, and evaluated size selectors used in chemical speciation samplers.
Peters received his bachelor's and master's degrees in Environmental Engineering from the University of Florida, where his aerosol generation system was developed for the EPA studies.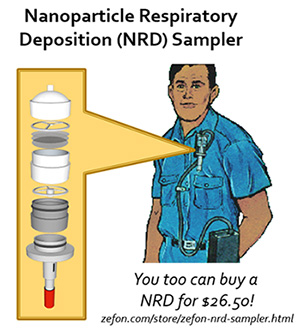 As a scientist for RTI International, he worked in a method development group at the Office of Research and Development at the EPA, where he helped develop a new National Ambient Air Quality Standard for particulate matter smaller than 2.5 micrometers; fine particles known as PM2.5.
Peters also was responsible for designing and field testing hardware now used throughout the U.S. and for drafting portions of the Code of Federal Regulations. After eight years working as an applied scientist and wanting to broaden his background to include industrial hygiene, he returned to school to receive his Ph.D. from the School of Public Heath at the University of North Carolina at Chapel Hill.
Working with vendors and workers to understand their needs in controlling contaminants and exposures is one way he can ultimately make a difference, Peters said. Even with his research work, along with numerous scientific papers he has published, he is committed to providing priority to his students.
"My heroes are teachers," Peters said, citing two with contrasting styles as being especially influential in his studies and career, and adding that he hopes to have a similar influence on his own students.
Students he has mentored have a strong history of publishing research in academic journals, receiving accolades for their work and establishing successful careers, he noted. Peters guides students from a wide variety of backgrounds with the goal that each will excel in their studies and careers.
"My position allows me to spark students' interest in subjects that have captivated and inspired my curiosity," he said. "It allows me to mentor them by honing their critical thinking skills, while they find pride in themselves through their accomplishments."
— Profile by Cindy Hadish