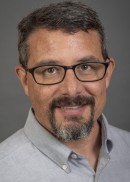 Title(s): Professor and Interim Head
Department: Occupational and Environmental Health
Office: S325 CPHB
Phone: (319) 335-4436
Dr. Peters is an engineer trained in aerosol physics who applies his efforts to the study of human health as it relates to particulate exposures. He develops novel strategies to quantify the morphology, concentration, and size of airborne particles. He uses these strategies to understand and control contaminants in diverse occupational and environmental settings.
Dr. Peters has developed methods to assess airborne engineered nanomaterials apart from background aerosols through activity monitoring with direct-read instruments and
computer-controlled single-particle electron microscopy of collected particles. These methods are now being incorporated into an NIEHS-supported project to investigate exposures that may result from physical manipulation (e.g., sanding) products that contain engineered nanomaterials.
In work funded by the Environmental Protection Agency, Dr. Peters has collaborated with Dr. Kumar to develop novel methods to assess the spatial, temporal, and compositional variability in atmospheric particulate matter. His key role in this work has been to develop and standardize low-cost, passive sampling methods with analysis by computer-controlled scanning electron microscopy for determination of coarse particle mass concentration (PM10-2.5) and its compositional make up.
Learn more about Dr. Peters in this profile…
Courses Taught
Aerosol Technology
Control of Occupational Hazards
Research Interests
Mechanics of aerosols: sampling and transport, instrumentation, filter design
Industrial ventilation: capture and control of workplace pollutants
Engineered nanomaterials and ultrafine particles: exposure assessment and health effects
Background
Affiliations