Kelly Baker: Helping create a better world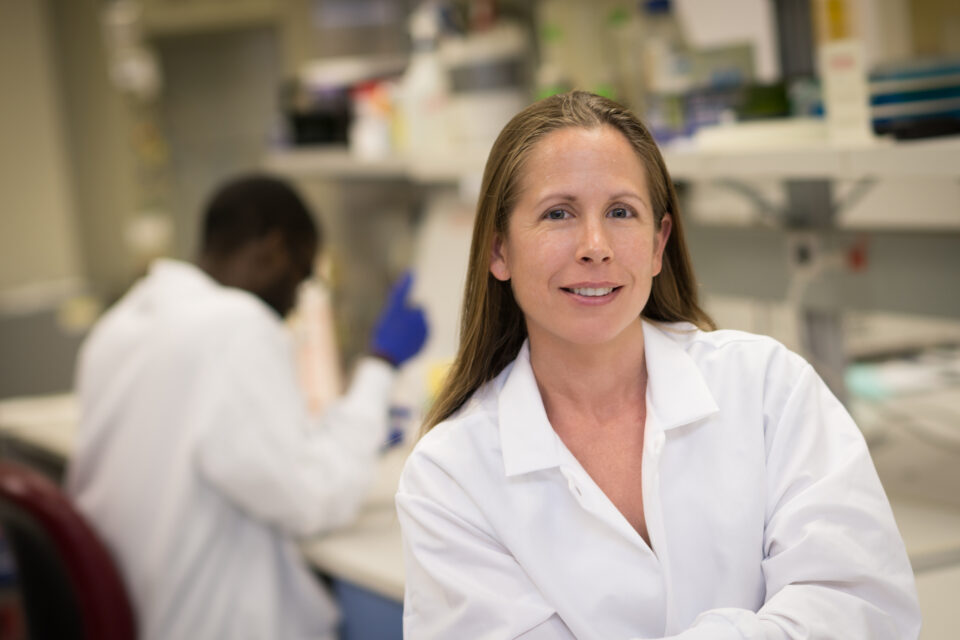 Sanitation and clean water are often taken for granted in industrialized countries, but Dr. Kelly Baker understands why they mean the difference between life and death.
"Clean water and waste management are under-appreciated," said Baker, Assistant Professor in the Department of Occupational and Environmental Health at the University of Iowa College of Public Health. Her international studies provide unique insight into the prevention of death and disease in low-income countries.
Travels to slums in India, where entire communities have no toilet, and poverty-stricken areas of Africa, where sewage is dumped directly in the ocean and travels upstream to fishing waters, are among the places where Baker has witnessed the complex issues first-hand. Diarrhea kills 2,195 children every day; more than AIDS, malaria and measles combined.
"We can't vaccinate the 1 billion-plus children living in low-income countries against all 40 to 50 microbial organisms that can be transmitted through feces," Baker said, adding that until access to clean water and proper sanitation is addressed, other measures serve only as a "band-aid."
Her route to global health was somewhat accidental. After graduating with degrees in biology and ecology, Baker traveled extensively in Mexico and South America, becoming acquainted with the impact of poverty on health.
"That was an eye-opening experience that provided the drive to go to graduate school in infectious disease," she said.
Baker went on to receive her Ph.D. in Molecular Microbiology and Immunology from the University of Maryland, where she also was a Postdoctoral Research Fellow in the Center for Vaccine Development in the School of Medicine and served as a visiting graduate student at the University of Santiago, Chile.
Her postdoctoral mentor at Maryland, Myron M. Levine, Principal Investigator of the Global Enteric Multicenter Study (GEMS) of diarrhea in infants and young children, offered Baker a unique chance to receive training in global health epidemiology and environmental microbiology. The multi-million dollar study, funded by the Bill and Melinda Gates Foundation, led Baker to more hands-on work in resource-poor countries.
Her current studies explore not only the health effects of poor water and sanitation on maternal and child health, but also how environmental and social factors contribute to health risks.
Baker's projects include examining shared sanitation facilities, poor hygiene and dangers the behaviors among caretakers can create for children. In India, she is exploring the relationship between use of latrines by girls and women and their risk of poor reproductive health over the course of their lives. Her team's conceptual model proposes that poor sanitation increases the risk of reproductive tract infections, as well as adverse pregnancy outcomes through sanitation-related psychosocial stress and poor menstrual hygiene management.
Her lab is developing a sensitive environmental microbiology tool that can detect and quantify 23 globally common fecally-transmitted pathogens in water, sewage and soil samples to improve the quality of information available for ecological disease transmission models, a study that will take her back to Kenya.
"This tool significantly improves our ability to estimate human health risks in places where disease is endemic, because it allows us to understand the patterns of individual organisms as a part of a more complex microbial system," Baker said.
"I'm still very much a microbiologist," she added, noting that her work utilizes microbiology as applied to understand complicated disease transmission systems and needs.
While her global health route may have been accidental, Baker's position at the UI was not.
Before coming to Iowa, she was a Research Assistant Professor in Environmental Health at the Rollins School of Public Health at Emory University, considered a "power house" in global health. She was recruited to Iowa for her global health expertise as part of a water and sustainability cluster hire of 10 faculty members in a variety of departments, to help pursue the university's mission to collaborate across-disciplines on specific topics.
In that role, Baker also serves as an assistant research scientist in the UI's IIHR—Hydroscience & Engineering Center. She will have a series of lectures next fall at the UI on water as it relates to global health and has a secondary appointment in epidemiology.
"I love what I do," Baker said of her work in global health. "It can be draining and depressing at times, but I feel like I'm part of a process in creating a better world. It is very rewarding."
— Profile by Cindy Hadish