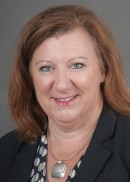 Title(s): Interim Director, Iowa Institute of Public Health Research and Policy
Department:
Office: N571-B CPHB
Phone: (319) 384-1511
Vickie Miene is the interim director of the Institute of Public Health Research and Policy at the University of Iowa College of Public Health. The institute brings together researchers, public health practitioners, community leaders and policy makers to expand the impact of public health research and improve the health of populations.
Miene has over 25 years of experience building effective health care delivery models for vulnerable populations. She led a multimillion dollar, multi-year SAMHSA-funded System of Care program in northeast Iowa. The Community Circle of Care program was praised nationally for being the first SOC-funded program that effectively combined the social support medical systems through a team-based model of care for children and youth with serious emotional disorders.
In addition, she co-founded the Center for Child Health Improvement and Innovation, which promotes systems improvement and innovation in the pediatric health community. Miene led multiple statewide training and technical assistance projects, all designed to transform systems and improve quality of services. Notably, she was part of a multidisciplinary statewide team that developed the successful Iowa Pediatric Integrated Health Home model. She has led multiple grant projects through her career.
Miene was an adjunct instructor at in the Graduate Psychology program at Loras College, teaching courses such as Ethics and Professional Identity and Marriage and Family Therapy Interventions.