Lack of Awareness and Limited Access to Care Affect Treatment for Eating Disorders in Iowa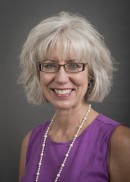 Kim Merchant conducted a statewide eating disorders needs assessment by interviewing providers, families, patients, and others throughout Iowa. Participants report lack of awareness of eating disorders and their prevalence in communities as well as among physicians.
"Translating the national prevalence of eating disorders – 30 million Americans – to Iowa's population means we could have more than 291,000 Iowans struggling with eating disorders," Merchant explained. "Yet, we have only about a score of clinicians who specialize in the field. Family, friends, and school personnel are often the first to notice when someone needs help, but don't know how or where to get help."
Participants also report lack of access to care in Iowa due to being rural as well as having limited providers and treatment options. Obstacles to treatment include stigma related to eating disorders, the emphasis on treating obesity, and issues with insurance. Building a robust eating disorder research program and educating future physicians were noted as possible opportunities within Iowa.
This project received funding from the University of Iowa Office of Outreach and Engagement.