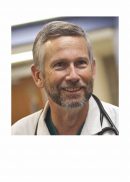 Title(s): Clinical Associate Professor
Department: Health Management and Policy
Office: N248 CPHB
Phone: (319) 384-3858
A. Clinton MacKinney, MD, MS, has worked in health care for more than 30 years – the first 14 years as a family physician in rural Iowa, practicing the full scope of family medicine. He has both owned a private practice and worked with large health care systems. Dr. MacKinney currently works as a part-time emergency department physician in rural Minnesota.
Dr. MacKinney is Clinical Associate Professor in the Department of Health Management and Policy. He is also a member of the Rural Policy Research Institute (RUPRI) Health Panel, Deputy Director of the RUPRI Center for Rural Health Policy Analysis and Deputy Director of the Rural Telehealth Research Center. Prior to his positions at the University of Iowa, Dr. MacKinney worked with nearly 50 rural providers and communities as a health care consultant. Dr. MacKinney has served on national committees for the Institute of Medicine, the Department of Health and Human Services, the American Academy of Family Physicians, and the American Medical Association. In his capacity as a rural health advocate, Dr. MacKinney writes and presents nationally.
Courses Taught
Introduction to Healthcare Management
Research Interests
Rural health policy
Rural Healthcare Design
Health Care Value
Physician Payment
Population-based healthcare
Background
In the News