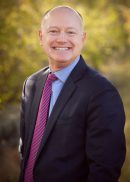 Title(s): Clinical Professor, MHA Program Director
Department: Health Management and Policy
Office: N216 CPHB
Phone: (319) 384-3835
Dan Gentry, PhD, MHA, is Clinical Professor of Health Management and Policy and Director of the University of Iowa MHA Program. Dr. Gentry joined the Department of Health Management and Policy in 2016. Prior to that, he served on the faculty and in leadership positions at Saint Louis University, Rush University in Chicago, and the University of Memphis. In addition to his leadership of the MHA program and his own teaching and research, Dr. Gentry spends part of his time working with senior leadership at the University of Iowa Hospitals and Clinics on accountable care, the patient experience, and transitions of care initiatives. Dr. Gentry has served on the boards of AUPHA and CAHME, where he served as Chair of the CAHME Board for 2013-14 and Chair of the CAHME CEO Search Committee in 2016. He earned his PhD in Health Services and Policy Analysis from the University of California, Berkeley, an MHA from the Medical University of South Carolina, and his Bachelor's degree from the College of Charleston.
Courses Taught
Professional Development Seminar
Human Resources Management in Healthcare
MHA Internship
Leadership of Healthcare Organizations
Research Interests
Quality Improvement
The patience experience
Accountable care
Transitions of care
Policy, prevention and care for tobacco, childhood obesity, and HIV/STDs
Background