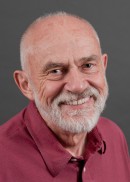 Title(s): Clinical Professor
Department: Occupational and Environmental Health
Office: S337 CPHB
Phone: (319) 335-4424
David Osterberg's work in the Department of Occupational and Environmental Health encompasses public policy in the fields of both environmental health and environmental quality. He teaches a seminar in environmental health policy as well as the department's only undergraduate course, an introduction to occupational and environmental health. He specializes in research translation and community engagement for two federally funded centers, the Environmental Health Sciences Research Center and the Iowa Superfund Research Program (ISRP). In addition, Professor Osterberg is part of the Training Core for the ISRP.
His accomplishments in service activities and specifically in engagement outside the University have been recognized by the College of Public Health with the 2009 Faculty Service Award and the 2011 Board of Advisers Award for Faculty Achievement in Community Engagement. In addition to his work at the University of Iowa, Osterberg is the founder and past executive director of the Iowa Policy Project, a non-profit policy research organization.
Learn more about Professor Osterberg in this profile…
Courses Taught
Environmental Health Policy
Health, Work and the Environment
Research Interests
Environmental Conservation
Environmental Health
Renewable Energy
Wind Energy Development: Environmental Policy
Sustainability
Background
Affiliations