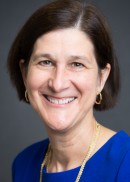 Title(s): Dean, Professor, Community and Behavioral Health, Professor, Public Policy Center, Office of the Vice President for Research
Department: Community and Behavioral Health
Office: S153A CPHB
Edith Parker, DrPH, MPH, serves as Dean of the College of Public Health and Professor of Community and Behavioral Health at the University of Iowa.  Prior to being named Dean in 2018, she served as Departmental Executive Officer in the Department of Community and Behavioral Health.
Dr. Parker's research focuses on health equity – specifically on the design, implementation and evaluation of community health promotion interventions to improve health status and reduce disparities in health. She is an expert in community-based participatory research (CBPR), which emphasizes the active involvement of community members in all aspects of the research process. Her expertise also includes translating and disseminating research findings for program and policy change.  She has consulted on community-academic partnerships nationally and globally, and has published extensively on the use and evaluation of such partnerships.  Her work has been funded by the National Institutes of Health, the Centers for Disease Control and Prevention, and the W.K. Kellogg Foundation.  Dr. Parker has over 100 peer-reviewed publications and book chapters and has edited two books in on CBPR research methods.
Dr. Parker currently serves as a member of the National Advisory Environmental Health Sciences Council of the National Institute of Health (NAEHSC), a Congressionally mandated body that advises the secretary of Health and Human Services, the director of NIH, and the director of the National Institute of Environmental Health Sciences (NIEHS) on matters relating to the direction of research, research support, training, and career development supported by the NIEHS. She previously served as a member of the US Environmental Protection Agency's National Advisory Community for Environmental Policy and Technology.
Dr. Parker received the Harriet Hylton Barr Distinguished Alumni Award from the University of North Carolina Gillings School of Global Public Health in April 2020.  She is a past recipient of the Regents Award for Faculty Excellence, given by the Board of Regents, State of Iowa, to honor faculty members for work representing a significant contribution to excellence in public education.
Dr. Parker holds a bachelor's degree from Davidson College, and Master of Public Health and Doctor of Public Health degrees from the University of North Carolina, Chapel Hill. Prior to coming to the University of Iowa, Dr. Parker served on the faculty of the University of Michigan from 1995 to 2010, where she served as Associate Dean for Academic Affairs from 2005-2010.
Courses Taught
Intro to Health Promotion & Disease Prevention
Research Interests
The development, implementation, and evaluation of community-based participatory interventions to improve health status
Global public health
Environmental health interventions
Community engagement and outreach
Health equity
Background
Affiliations