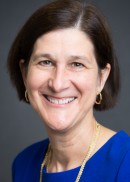 Title(s): Dean, Professor, Community and Behavioral Health, Professor, Public Policy Center, Office of the Vice President for Research
Department: Community and Behavioral Health
Office: S153A CPHB
Dr. Edith Parker serves as Dean of the University of Iowa College of Public Health. She formerly served as Departmental Executive Officer of the University of Iowa Department of Community and Behavioral Health.
Dr. Parker's research has been funded by the National Institutes of Health and the Centers for Disease Control and Prevention and focuses on the design of community health promotion interventions that address social determinants of health and health disparities.
A nationally recognized expert on Community-Based Participatory Research (CBPR), her work centers on engaging community members in the design, implementation, and evaluation of research interventions, and translating and disseminating research findings for program and policy change. She has consulted on community-academic partnerships in Alabama, California, North Carolina, Ohio, Oregon, Pennsylvania, Puerto Rico, and Canada, and has published extensively on the use and evaluation of such partnerships.
Dr. Parker holds a bachelor's degree from Davidson College, as well as Master of Public Health and Doctor of Public Health degrees from the University of North Carolina, Chapel Hill. She served on the faculty of the School of Public Health at the University of Michigan before joining the University of Iowa in 2010.
Courses Taught
Intro to Health Promotion & Disease Prevention
Research Interests
The development, implementation, and evaluation of community-based participatory interventions to improve health status
Global public health
Environmental health interventions
Community engagement and outreach
Health equity
Background
Affiliations