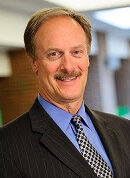 Title(s): Clinical Associate Professor, Executive Director EMHA track
Department: Health Management and Policy
Office: N212 CPHB
Phone: (319) 384-3862
Kenneth P. Anderson, DO, MS, has worked in health care for more than 35 years – the first 13 years as a critical care nephrologist and transplant physician in Des Moines, Iowa. He owned and managed a private multispecialty medical practice, served in a number of health system administrative positions including Division Chief, Department Vice Chairman, Chief of Staff, and Board member. Dr. Anderson served on the Iowa State Board of Health, creating the state's first Accountable Health Plan, and is a senior and alumni examiner for the Baldrige National Quality Program.
Dr. Anderson currently serves as the Director of the Executive MHA track within the Health Management and Policy Department. Previous appointments include faculty appointments at the University of Chicago and at Des Moines University's College of Osteopathic Medicine where he served as Interim Dean. Dr. Anderson was the first Chief Medical Quality Officer for NorthShore University HealthSystem in Evanston, Illinois, and became the Chief Operating Officer and Interim CEO for the Health Research and Educational Trust at the American Hospital Association in Chicago, where he also directed the Association for Community Health Improvement.
He has advised Senator Tom Harkin on medical affairs for President Clinton's National Health Policy Advisory Team, served as Chair of Network XII ESRD Quality Committee, and has served on a number of state, national, and international committees focusing on health care quality and community health.
Dr. Anderson has served as a journal editor and has written and presented nationally and internationally on a wide array of health care matters, publishing his first book Saving the Health of American Health Care.
Courses Taught
Healthcare Quality Management
Interprofessional Healthcare Administration I
Interprofessional Healthcare Administration II
MHA Integrative Capstone
Research Interests
Provider Leadership in Health Systems
Healthcare Quality and Safety System Design
Healthcare Innovation
Health Care Value
Impact of Social and Behavioral Determinants of Health
Background