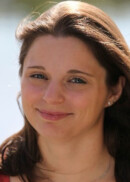 Title(s): Assistant Professor
Department: Epidemiology
Office: S418 CPHB
Phone: (319) 467-4282
Dr. Nash has broad training in cancer epidemiology, cancer surveillance, cancer epidemiology, and community-based participatory research. Dr. Nash's research blends data science with community engagement to understand and address chronic disease disparities, primarily cancer disparities. Wherever possible, she strives to engage community members in the research process, and she favors a mixed-methods research approach.
Dr. Nash is currently engaged in research in the following areas: leveraging the cancer registry system to understand and address Indigenous and rural cancer disparities; understanding the role of modifiable risk and protective factors in chronic disease etiology; determining the impact of weight and weight stigma in shaping cancer treatment and treatment experiences; and, understanding how experiences of racism experienced by Black and African American Iowans shape engagement in cancer prevention and control behaviors.
In addition to her research, mentoring, and teaching duties, Dr. Nash is the Director of Research, Analytics, and Dissemination at the Iowa Cancer Registry and the Co-Lead of Community Outreach and Engagement at the Holden Comprehensive Cancer Center.
Courses Taught
Principles of Epidemiology I
Chronic Disease Epidemiology
Research Interests
Collection of high-quality cancer surveillance data; and use of cancer registry data to understand and address cancer disparities
Understanding and addressing health inequities, particularly among Indigenous and rural populations
Health services research with a specific focus on cancer screening
Role of modifiable risk factors including diet, tobacco use, and physical activity in cancer prevention
Role of race- and weight-based discrimination in shaping cancer prevention and control behaviors
Community-engaged research methods
Background
In the News