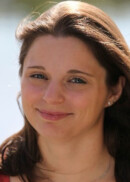 Title(s): Assistant Professor
Department: Epidemiology
Office: S418 CPHB
Phone: (319) 467-4282
Dr. Nash's research blends data science with community engagement to understand and address cancer health disparities, particularly among Indigenous and rural communities. Dr. Nash's research portfolio can be considered under three broad themes: using publicly available data to describe of the burden of cancer and address cancer disparities; health services research to understand the provision of cancer prevention and treatment services, and the impact of care on cancer outcomes; and epidemiologic studies to understand risk and protective factors for cancer and other chronic diseases. Her research broadly utilizes a community-based participatory research framework, as well as mixed-methods approaches.
Research Interests
Cancer surveillance, epidemiology, and prevention
Understanding and addressing health inequities, particularly among Indigenous and rural populations
Health services research with a specific focus on cancer screening
Role of modifiable risk factors including diet, tobacco use, and physical activity in cancer prevention
Community-engaged research methods
Background
In the News