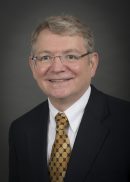 Title(s): Emeritus Associate Professor
Department: Health Management and Policy
Office: S149 CPHB
Phone: (319) 384-3819
Thomas Vaughn, PhD, is an Emeritus Associate Professor in the Health Management and Policy Department of the University of Iowa College of Public Health. Tom has extensive experience both as a practicing healthcare executive and as a researcher examining organizational factors associated with implementing organizational change. His primary interest is in how organizational management and structures can both improve the delivery of health care services and contribute to employee job satisfaction. He was one of the lead researchers of the team that developed the Hospital Leadership and Quality Assessment Tool (HLQAT), which is a survey instrument designed to assist hospitals to identify leadership strengths and structures and processes that support desired quality improvement activities. He is currently an investigator on two research projects with the Rural Policy Research Institute (RUPRI), one a technical assistance grant looking the impact of the Affordable Care Act on rural health care delivery and the second an examination of accountable care organizations serving rural communities. He is also currently an investigator on an AHRQ-funded project to determine whether pre-planning for TeamSTEPPS can improve implementation effectiveness. Outside of work, Tom enjoys reading, attending plays and concerts, and especially catching up with his sons, daughters-in-law and three grandchildren.
PhD in Health Services and Policy focal area
Health Management and Organization
Courses Taught
Strategic Planning and Marketing
Health Care Ethics
Advanced Organizational Theory and Organizational Behavior in Health Care
Research Interests
Health services organization and policy
Leadership and quality
Organizational factors associated with effectiveness
Background