Bernard J. Tyson, MBA
Chairman and CEO of Kaiser Foundation Health Plan, Inc. and Hospitals
"Getting to Equity in Health Care: Lessons from Kaiser Permanente"
Hansen Distinguished Lecture
Thursday, April 4, 2019
11:30 a.m.
Callaghan Auditorium (N110 CPHB)
A luncheon will follow the presentation at 12:30 p.m. in the CPHB atrium
About Mr. Tyson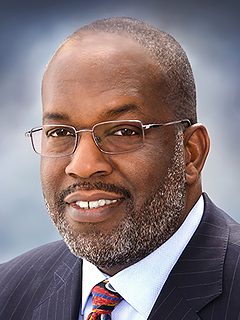 Bernard J. Tyson is the chairman and CEO of Kaiser Foundation Health Plan, Inc. and Hospitals — known as Kaiser Permanente, one of America's leading integrated health care providers and not-for-profit health plans. With annual operating revenue of nearly $73 billion, Kaiser Permanente serves 12.2 million members in eight states and the District of Columbia.
Tyson assumed the role of chairman in January 2014 and has served as CEO since 2013. His career at Kaiser Permanente has spanned more than 34 years, and he successfully has managed all major aspects of the organization during this time, serving in roles from hospital administrator to division president to president and chief operating officer of the Oakland, California-based national health care organization.
Under Tyson's leadership, Kaiser Permanente continues to drive the need for affordable, accessible, high-quality health care and improving the health of its members and the 67 million residents in its communities. The organization is delivering on its "Thrive" promise by bringing an industry-leading 21st-century approach to health care and coverage that is helping members achieve their aspirations of total health — physical health as well as mental health and wellness. Kaiser Permanente's 216,000 employees and 22,000 Permanente Medical Group physicians provide personalized, coordinated and technologically advanced care that consistently delivers some of the best clinical outcomes in the nation, while also leading the country in prevention, patient safety, and quality.
Tyson's influence has been felt both nationally and internationally. Modern Healthcare has named him one of the most influential people in health care for five consecutive years. He is No. 2 on the 2018 list, tied with 11 executives disrupting health care including Tim Cook from Apple, Jeff Bezos from Amazon, and Larry Merlo from CVS Health. In 2017, he was included on the TIME 100 list of the most influential people in the world and Fast Company's list of most creative people. He recently was named one of the Health Care 50 by TIME.
Tyson serves on the board of directors of the American Heart Association and Salesforce. He is chair of America's Health Insurance Plans, chairman of the International Federation of Health Plans, and is a steward of the World Economic Forum's Global Challenge on the Future of Health. Tyson is chair of the Bay Area Council, a business-led public policy organization advocating for a strong economy and better quality of life for Bay Area residents. He is a member of The Business Council.
A San Francisco Bay Area native, Tyson earned a Master's of Business degree in Health Service Administration and a Bachelor's degree in Health Service Management from Golden Gate University in San Francisco. He earned a leadership certificate from Harvard University.