Alumni Profile: Christine Hradek, MPH '09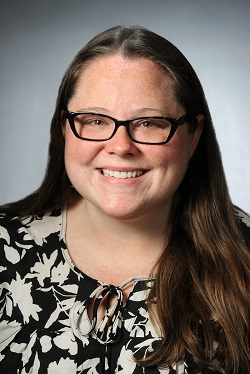 Current Position: State Extension Specialist, State Coordinator for EFNEP (Expanded Food and Nutrition Education Program) and SNAP-Ed (Supplemental Nutrition Assistance Program Education)
What interested you in Public Health?
I worked as a teacher in the San Francisco Bay Area for several years after I finished college. During that time it became clear to me that a child's success in school had more to do with what happened outside the classroom than the lessons I taught. A child's social circumstances, environment and health are significant determinants of their success in school and beyond. I decided to work further up the chain and focus on health from a population perspective. That decision brought me to public health and specifically, community and behavioral health.
Why did you choose Iowa?
I grew up in Iowa City and though I was living in California when I decided to go back to school, Iowa has always been home. When I looked into what the College of Public Health had to offer, it became clear that there were committed faculty who could support me as I moved into this new field.
What was your favorite experience in Graduate School?
I enjoyed my time in graduate school very much. I made some great friends who are still a big part of my life today, but I also had valuable professional opportunities. My trips to the American Public Health Association (APHA) annual meetings stand out as particularly meaningful. I was privileged to attend these conferences as part of my graduate research assistantship. We study various agencies in public health and the types of programming they do, but attending a conference like APHA gives you the opportunity to meet the staff working in the biggest public health agencies with reach all over the nation and the world.
What piece of advice would you offer prospective students?
Reach out to the faculty in your area of interest during your application process. This will help you better understand the types of research and programming happening that may be of interest to you while you're in school. It is also a helpful way to determine if there might be an assistantship that would be a good fit for you.
What piece of advice would you offer current students?
Make connections with faculty, staff and your fellow students early on. Your time at the College will go by in an instant, but those relationships will last throughout your career. I still keep in regular contact with friends and colleagues from UICPH. Those connections not only support you throughout the challenges of graduate school, but also continue as valuable professional contacts.