Alumni Profile: Katie Jones, MPH '12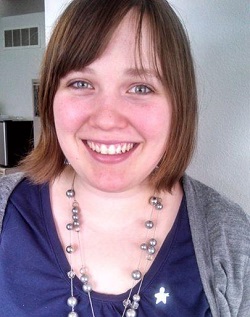 Current Position:
Health Education Specialist at Linn County Public Health
What interested you in Public Health?
I love how interdisciplinary public health is, its focus on prevention, and that it tackles health issues on a community-level. I've been interested in medicine and passionate about social justice for a long time, and I think public health is a great blend of those two areas.
Why did you choose Iowa?
The University of Iowa College of Public Health program is excellent and the Community and Behavioral Health track had the types of classes I was most interested in. The professors and staff seemed great as well (and turns out they were!). I'm also from Iowa and was interested in staying here and helping this community.
What was your favorite experience in Graduate School?
I had a lot of wonderful experiences. I loved getting to know the other students, professors, and staff. If I had to pick a single experience, I think one of my favorites was designing a bystander intervention sexual assault prevention campaign for the Rape Victim Advocacy Program through the Health Communication Campaigns class. It was great to work with my classmates on a project that could be used in the real-world and to work with a community organization.
What piece of advice would you offer prospective students?
I suggest talking with current students or recent graduates and, if you can, gain some experience at a public health-related organization. Try to get an internship or job related to public health and read about the different public health-related job paths that are out there. It will show you what it's really like to work in a public health setting.
What piece of advice would you offer current students?
My main piece of advice is to try to get as much public health work experience as you can, to develop your professional skills. I had a student position at the Iowa Cancer Consortium while I was getting my MPH. I loved working there; the women who work there are amazing. That experience really helped me build important skills, connect what I was learning in school to the real world, and get to know other public health professionals across the state. I know it's difficult to find jobs or internships right now, especially ones that pay, but if you can find something, try to develop as many skills as you can.
I also suggest getting involved in the community in other ways, if you aren't already. There are a lot of really great coalitions and organizations in the Iowa City area that are doing important work. Consider joining the Sexual Health Alliance of Linn & Johnson Counties or the Coalition for Racial Justice Coalition – Iowa City/Johnson County or volunteer at Big Brothers Big Sisters, the Crisis Center of Johnson County, the Rape Victim Advocacy Program, or Shelter House.
How does your CBH education manifest itself in your current work?
It manifests all the time. A lot of my job is collaborating with community members to help create lasting changes on a wide variety of health issues. I also manage and implement a community grant. The skills I learned in Designing & Implementing Interventions come in handy often, and I'm thankful the CBH classes covered a broad array of health topics. I also frequently assist my coworkers at the health department to create health messages, so I'm glad I took classes about health communication. On top of that, I do some data gathering and analysis, especially when I'm working on our Community Health Needs Assessment, so skills I learned in Biostatistics and Epidemiology come up sometimes too.
I was fortunate to work closely with another CBH alumna during my first year here, and she really helped me get settled. I am also very lucky to continue to work with many CBH alumni (and other UI College of Public Health alumni); it is great to be a part of such a strong and passionate network of public health professionals.
Anything else you want to share or you think prospective students should know?
To the prospective students: public health is an amazing field – good luck on your journey!