Alumni Profile: Katie Reasner, MPH '12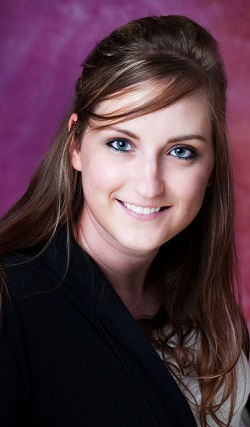 Katie is employed as an Adolescent Health Educator at United Action for Youth in Iowa City, IA working to promote healthy behaviors and responsible choices for youth.
What interested you in Public Health?
I started volunteering as a public health advocate when I was thirteen. Driven by a heartfelt concern of the adverse health effects from second-hand smoke, I became involved with Clean Air for Everyone (CAFE); a grassroots organization dedicated to eliminating death and disease that result from the use of tobacco products.
Why did you choose Iowa?
I choose to attend the University of Iowa for graduate school because I felt the course work in the department of Community and Behavioral Health were best aligned with my public health interests.
What is your favorite experience in Graduate School:
One of my favorite graduate school experiences was when I volunteered to staff a health promotion booth at MedFest. MedFest is a Special Olympics event held at the University of Iowa that provides athletes with physicals and health promotion activities. I enjoyed interacting with a variety of people on a topic that I love- being smoke-free!
What piece of advice would you offer prospective students?
I took a few classes before I applied to the College of Public Health. Taking these classes allowed me to know the department would be a good fit for me before I officially applied.
What piece of advice would you offer current students?
When considering your practicum site, pick an agency or organization where you would want to work. This can help you in securing a job after you have graduated. Networking is also very important. Sometimes it's more about who you know, than what you know.
How does your CBH education manifest itself in your current work?
From conducting focus groups to writing outcome measures, the education I received in the Department of Community and Behavioral Health is continually being used.
Anything else you want to share or you think prospective students should know?
Have fun! Whether you are a part-time or full-time student, it flies by quickly.