Alumni Profile: Rebecca Arnold, MPH '10
Rebecca is employed by Johns Hopkins Bloomberg School of Public Health Center for Communication Programs (JUH•CCP). She works as Project Director for the Bangladesh Knowledge Management Initiative in Dhaka, Bangladesh.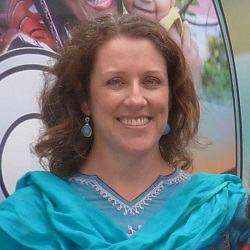 What interested you in Public Health?
I am attracted to the potential for public health to improve people's lives and well-being. More specifically, I am inspired by the power of communication to effect behavioral and social change.
Why did you choose Iowa?
Iowa provided the flexibility I needed to balance work, family and graduate school.
What was your favorite experience in Graduate School?
I was fortunate to travel to Burundi, Rwanda and Uganda for my practicum. And I survived driving through more than one blizzard on I-80 during my commute from Rock Island, IL to Iowa City.
What piece of advice would you offer current students?
Find ways to get as much direct work experience as possible while you are a student. It's the best way to discover your talents and interests. Plus, you'll have a head start on developing your network of professional colleagues. Don't think of networking as purely a job searching tool.
How does your CBH education manifest itself in your current work?
An MPH is a minimum requirement for a job like mine. Our project strengthens the capacity of the Bangladesh Ministry of Health to plan, design, implement, monitor and evaluate social and behavior change communication (SBCC) activities. We have also developed a vibrant community of practice that supports government, non-government, private sector and development partner actors who work in SBCC to share experiences and coordinate efforts. It requires a solid public health education, as well as a lot of diplomacy and coaching. In addition to technical health communication and public health skills and knowledge, it's important to focus on developing one's leadership, management and administrative (finance, contracts, HR, etc) skills in order to be considered for more senior-level positions.
Management and administration were not part of my course work. It's one of the important reasons for students to look for internships or other direct work experiences while they are still in school (or to have some of those experiences before beginning graduate school). I've managed to learn quite a bit on the job (i.e. learning by doing); by actively observing and learning from other managers (both good and bad); by reading books and articles; and by seeking out different experiences that may be beyond my comfort zone but that will build my skills and experience. I still have a lot to learn! Leadership and management are areas for continual growth, even for those who are considered to be experts.