Alumni Profile: Hana Hinkle, MPH '09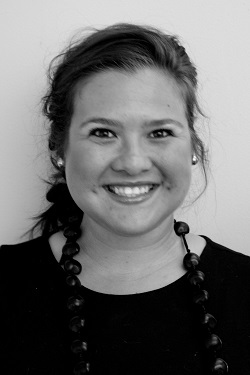 Current Position:
Assistant Director, National Center for Rural Health Professions, University of Illinois-Chicago at Rockford Health Sciences Campus and Adjunct Faculty, MPH Program, Benedictine University. Previous Director of Community and Personal Health for a local health department in northern Illinois.
What interested you in Public Health?
Early in my undergraduate studies I was really interested in medicine. I worked in a cancer research lab, shadowed and volunteered in various departments of the hospital and took pre-medicine courses. Initially, I thought I could have the most positive impact with people by treating their disease. However, in my research, volunteer and shadowing experiences, I found myself wondering what could be done to prevent people from facing poor health outcomes. I was also beginning to think about ways that I could reach more people than working with one patient at a time. I had a very limited understanding of a broader model of health, so I decided to take a course on global health my senior year. This course opened my eyes to a more population-based approached to health and through this course was inspired to look at health outcomes using a public health perspective. I sought out other volunteer opportunities at a local health department and was even more convinced that a career in public health was my ultimate passion.
Why did you choose Iowa?
As an undergraduate student at Iowa I thought that I would probably want to go elsewhere for graduate school. I had looked other places for public health school-in the Midwest and across the country. However, after researching other schools, I recognized the tremendous opportunities that were available at the College of Public Health. I met with faculty before I applied to Iowa and felt like they were really interested in supporting my path through graduate school. The expert faculty involvement along with the many practice, research and teaching opportunities made Iowa the right choice for me. Iowa City is a great place to live — it just feels like home.
What was your favorite experience in Graduate School?
I had many great experiences in grad school. One of the most memorable was when I was able to attend the American Public Health Association's annual meeting in San Diego. It was a great experience to see so many public health professionals come together to share their work and ideas. At APHA I was able to meet some experts in the field and now I work directly with some of the faculty and staff that I met at APHA. Another favorite experience was when my classmates and I wrote and received a grant through the American Schools of Public Health. This was my first grant writing experience and it was really an invaluable experience as grant writing has become a core activity of my work in public health. One of the best things about going to graduate school at Iowa was that I able to work and collaborate with so many great faculty and classmates. Many of my CBH classmates have become my closest friends. My former classmates are successful in their area of public health and through these relationships; I now have a network of public health professionals that I can collaborate with on any number of projects.
What piece of advice would you offer prospective students?
I recommend that prospective students in public health seek out some type of shadowing, volunteer or internship experience prior to starting graduate. Volunteering at a local health department, working in environmental health, meeting with a hospital administrator, or working in a research lab can all be very valuable experiences to a prospective student. Public health is a broad and dynamic field. Gaining a practical experience of public health will help you develop a focused path in the field once you are in graduate school. It is important that as a student you have an understanding of public health as it will help you focus your coursework when you are in school. Also, don't be afraid to contact former/current students or faculty. They can help you identify areas of study in your public health training.
What piece of advice would you offer current students?
It is never too early to start researching jobs. I started fairly early on in graduate school contacting people in areas that I thought I would like to practice after I received my public health training. Early on, I wasn't interested in applying for jobs through these contacts. I was only hoping that they may be able to make me aware of internship/fellowship/practicum opportunities. Being proactive in my job search made it much easier to focus on positions to apply for prior to graduation Also, don't be afraid to contact people who have the position you hope to get one day-they can really help you identify a realistic strategy to achieve your goals. As a student you are in a unique position to learn all you can from your classmates, colleagues, and faculty and public health practitioners in the field-take advantage of it! Also, work as hard as you can in and outside of the classroom. Hard work and perseverance always pay off and you will be a better student and person if you adopt a strong work ethic early. Public health is more than a career, for many it is a passion. Bring that passion with you in everything you do and you will be successful. Aim to inspire others in the work that you do.
How does your CBH education manifest itself in your current work?
I can't think of any day I have had, in my current position or in my former position as a Director of Community and Personal Health where I didn't use a skill that I gained during my CBH training. In any given day, I could be working on developing a program plan using theory, evaluating an intervention or situation, managing a budget, writing a grant, presenting to community members or stakeholders, working to solve a community-based health issue or teaching a course on health education, cultural competency or even the healthcare system. I have been able to take on so many projects early on in my career because of my outstanding training I received from the College of Public Health. I feel that my education at Iowa provided a platform for me to be able make an impact and share my passion for public health!