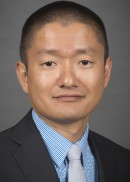 Title(s): Associate Professor, Interim MHA Program Director
Department: Health Management and Policy
Office: N222 CPHB
Phone: (319) 384-3829
Xi Zhu, PhD, is an Associate Professor in the Department of Health Management and Policy and serves as Interim MHA Program Director. Dr. Zhu received his PhD in Sociology from the University of Minnesota. His research focuses on micro and macro organizational behaviors in healthcare delivery systems. Specifically, his work explores: 1) how team design, team process, and quality improvement activities affect care quality and safety; and 2) how market and policy environments affect health organizations' structures, strategies, and efficiency. Together, his research builds on organization, team, and implementation sciences to identify strategies and approaches for advancing patient care while improving micro and macro healthcare systems.
Courses Taught
Health Care Management
Hospital Organization and Management
Human Resources for Health Organizations
Organizational Behavior and Theory in Health Care
Research Interests
Organizational behavior and theory
Team design, process, and effectiveness
Health systems and health policy
Quality improvement and patient safety
Implementation and evaluation sciences
Social network analysis and its applications
Background