About the Healthy LifeStars Program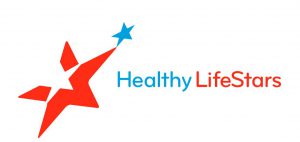 Healthy LifeStars and the Iowa Institute of Public Health Research and Policy are partnering to implement the Healthy LifeStars program in Iowa.
Healthy LifeStars is a national non-profit organization dedicated to ending childhood obesity through education, awareness and changed habits to influence future generations of healthy children.  The program inspires personal responsibility to change unhealthy habits into healthy lifestyles.
Obesity is preventable!
Obesity is the #1 health problem for children and it can lead to additional health consequences such as diabetes, heart disease, cancer, breathing and sleep problems
Obesity rates for Iowa children have increased.  Iowa is now ranked 30 among the 51 States and Territories for childhood obesity.  Iowa has the fourth-highest adult obesity rate in the nation.
The likelihood of childhood obesity increases with low family income, lack  of access to neighborhood parks, less physical activity and greater TV, gaming,  social media  and  other screen time.
The program operates in before, during or after school programs and is implemented in part through University of Iowa student coaches.
Join us to help launch a new generation of LifeStars inspired to live active, healthy lives now and in the future!