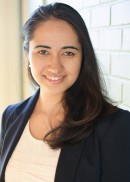 Title(s): Associate Professor
Department: Health Management and Policy
Office: N250 CPHB
Phone: (319) 384-3817
Kanika Arora is an associate professor in the Department of Health Management and Policy at the University of Iowa. Her research focuses on gerontology with a special emphasis on informal caregiving, cannabis use among older adults, end-of-life outcomes, and Alzheimer's Disease and dementia. She has examined the effect of several policies and programs, including paid family leave, legalization of medical marijuana, managed care, and consolidation of state area agencies on aging, on older adult and caregiver outcomes. Her recent work examines dementia prevalence and trajectories of cognitive functioning among agricultural workers, outcomes among senior and disabled individuals under Medicaid managed care, and the effect of a dementia onset on change in risky behaviors (such as smoking and alcohol use) among older adults. She completed her Ph.D. in public administration from the Maxwell School, Syracuse University.
PhD in Health Services and Policy focal area
Courses Taught
HMP 7950: Design Issues in Health Services Research
CPH 3700: Methods for Program Implementation and Evaluation
Research Interests
Aging
Long-term care
Intergenerational relations
Program evaluation
Background