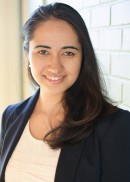 Title(s): Assistant Professor
Department: Health Management and Policy
Office: N238 CPHB
Phone: (319) 384-3817
Kanika Arora, PhD, joined the Department of Health Management and Policy at the University of Iowa in 2015. She completed her PhD in Public Administration from the Maxwell School, Syracuse University in 2015. Her research focuses on understanding the motivations and implications of supplying long-term care services to the elderly in the U.S. Her recent work examines: time tradeoffs associated with informal care, parental dementia and wealth accumulation among adult children, and the effect of formal care services on Medicaid expenditures. A second stream of her research studies evaluation design for cooperative extension programs. Before starting her PhD at Syracuse, Kanika was a Monitoring and Evaluation Specialist for Orbis International – an international non-profit working to prevent and treat blinding eye disease in developing countries.
PhD in Health Services and Policy focal area:
Courses Taught
Medicare and Medicaid Policy
Design Issues in Health Services Research
Research Interests
Aging
Long-term care
Intergenerational relations
Program evaluation
Background