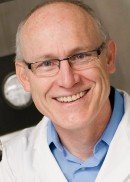 Title(s): Professor and Head
Department: Occupational and Environmental Health
Office: S341A CPHB
Phone: (319) 335-4216
Dr. Peter Thorne already held a number of prominent leadership positions before being offered one that eventually could thrust him, and the University of Iowa, into a national spotlight. Thorne, professor and head of the UI College of Public Health's Department of Occupational & Environmental Health, and director of the Environmental Health Sciences Research Center, recently began serving as chairman of the U.S. Environmental Protection Agency's Science Advisory Board.
Although his workload as chair — deciding priorities for the 48-member board, setting the board's agenda and a myriad of other duties — might seem daunting, "this was too big of an opportunity to refuse," said Thorne, who will continue in his other roles during his two-year appointment.
Thorne encourages and values the collaborative efforts among faculty members within and outside of the Department of Occupational and Environmental Health. "The faculty we have are at the forefront of their fields. They are equally passionate about mentoring students and doing cutting-edge research," said Thorne. "Having that combination is what's really important."
Learn more about Dr. Thorne at this link…
Courses Taught
Human Toxicology and Risk Assessment
Global Environmental Health
Climageddon: Climate Change and Health
Research Interests
Air Pollution
Asthma
Environmental Health
Environmental Toxicology
Inflammation
Occupational Health and Safety
Pulmonary Diseases
Rural Health
Toxicology
Aerosol Sciences
Bioaerosol
Endotoxin
Glucan
Indoor Air
Indoor Environment
Inflammation
Inflammatory Disease
Inhalation
Occupational Health and Safety
Organic Dust Exposure
Innate Immunity
Background