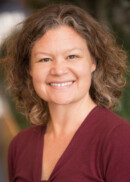 Title(s): Clinical Associate Professor, Director of Undergraduate Programs
Department: Occupational and Environmental Health
Office: S141 CPHB
Phone: (319) 335-4190
Sustainable agriculture is a big topic; Dr. Brandi Janssen knows that a truly sustainable agriculture has to keep farmers and farm workers safe, in addition to being environmentally sensitive. As director of Iowa's Center for Agricultural Safety and Health (I-CASH), she oversees a statewide coalition of public and private organizations devoted to reducing injuries and fatalities on farms. As a researcher, she examines local food production in Iowa to better understand how to develop food systems that are environmentally sustainable, accessible to consumers, and profitable for farmers.
Dr. Janssen writes regularly for Iowa Farmer Today and is the author of the book Making Local Food Work: The Challenges and Opportunities of Today's Small Farmers, coming out in spring of 2017 from the University of Iowa Press.
Learn more about Dr. Janssen in this profile….
Courses Taught
Introduction to Public Health Methods
Topics in Agriculture and Rural Health
Agricultural Safety and Health: Practice, Research Methods, and Policy
First Year Seminar: Farms, Food and Health
Public Health Theories and society
Agriculture, Food Systems, and Sustainability
Research Interests
Alternative Agriculture
Food Systems
Environmental Justice
Agricultural Labor
Background
Affiliations