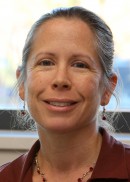 Title(s): Associate Professor
Department: Occupational and Environmental Health
Office: S316 CPHB
Phone: (319) 384-4008
Sanitation and clean water are often taken for granted in industrialized countries, but Kelly Baker understands why they mean the difference between life and death.
Travels to slums in India, where entire communities have no toilet, and poverty-stricken areas of Africa, where sewage is dumped directly in the ocean and travels upstream to fishing waters, are among the places where Baker has witnessed the complex issues first-hand. She was recruited to the University of Iowa for her global health expertise as part of a water and sustainability cluster hire of 10 faculty members in a variety of departments.
"I love what I do," Baker said of her work in global health. "It can be draining and depressing at times, but I feel like I'm part of a process in creating a better world. It is very rewarding."
Learn more about Dr. Baker at this profile…
Courses Taught
Global Water and Health
Global Public Health
Research Interests
Background
Affiliations