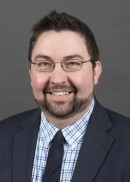 Title(s): Associate Professor, MS in Health Policy Program Director
Department: Health Management and Policy
Office: N240 CPHB
Phone: (319) 384-4369
Brad Wright, PhD,  joined the Department of Health Management and Policy at the University of Iowa in 2012 and received a secondary appointment in the UI Public Policy Center in 2013. He holds a Ph.D. in health policy and management from the University of North Carolina at Chapel Hill, an M.S. in health policy from George Washington University, and a B.S. in biology from the University of Georgia. He also completed an AHRQ-funded postdoctoral fellowship in health services research at Brown University.
Dr. Wright studies health and healthcare disparities, with an emphasis on publicly insured populations and healthcare safety net providers. His additional research interests include health politics and policy, healthcare reform, and patient and public involvement in healthcare. Dr. Wright has studied the nation's federally qualified health centers (FQHCs) extensively. His current work, funded by the National Institute on Minority Health and Health Disparities, uses quasi-experimental methods to explore whether receiving care at an FQHC reduces potentially-preventable hospitalizations, observations stays, and emergency department visits among Medicaid-Medicare dual eligibles. A separate line of research, funded by the National Institute on Aging, examines the causes and consequences of racial and geographic disparities in Medicare beneficiaries' use of hospital-based observation care. Dr. Wright has also explored the topic of observation care in the Veterans Administration and England's National Health Service.
Dr. Wright's research has been published in Health Affairs, Medical Care, Health Services Research, the Journal of Health Politics, Policy and Law, the Journal of Rural Health, and the American Journal of Public Health.